As Senior Designer for
PAI Health
(formerly Mio Global), I was responsible for producing and overseeing all design projects for marketing, sales, and events.
Projects included brand brochures, banners & signage, promo materials, handouts, advertising, social imagery, and more.
Stakeholders:

VP Marketing, Director of Marketing, VP Global Sales
Responsibilities:

Visual concept development, mockups, copy editing, print artwork/pre-press
Skills:

Print design, image editing, icon design/illustration
Tools:

 InDesign, Photoshop, Illustrator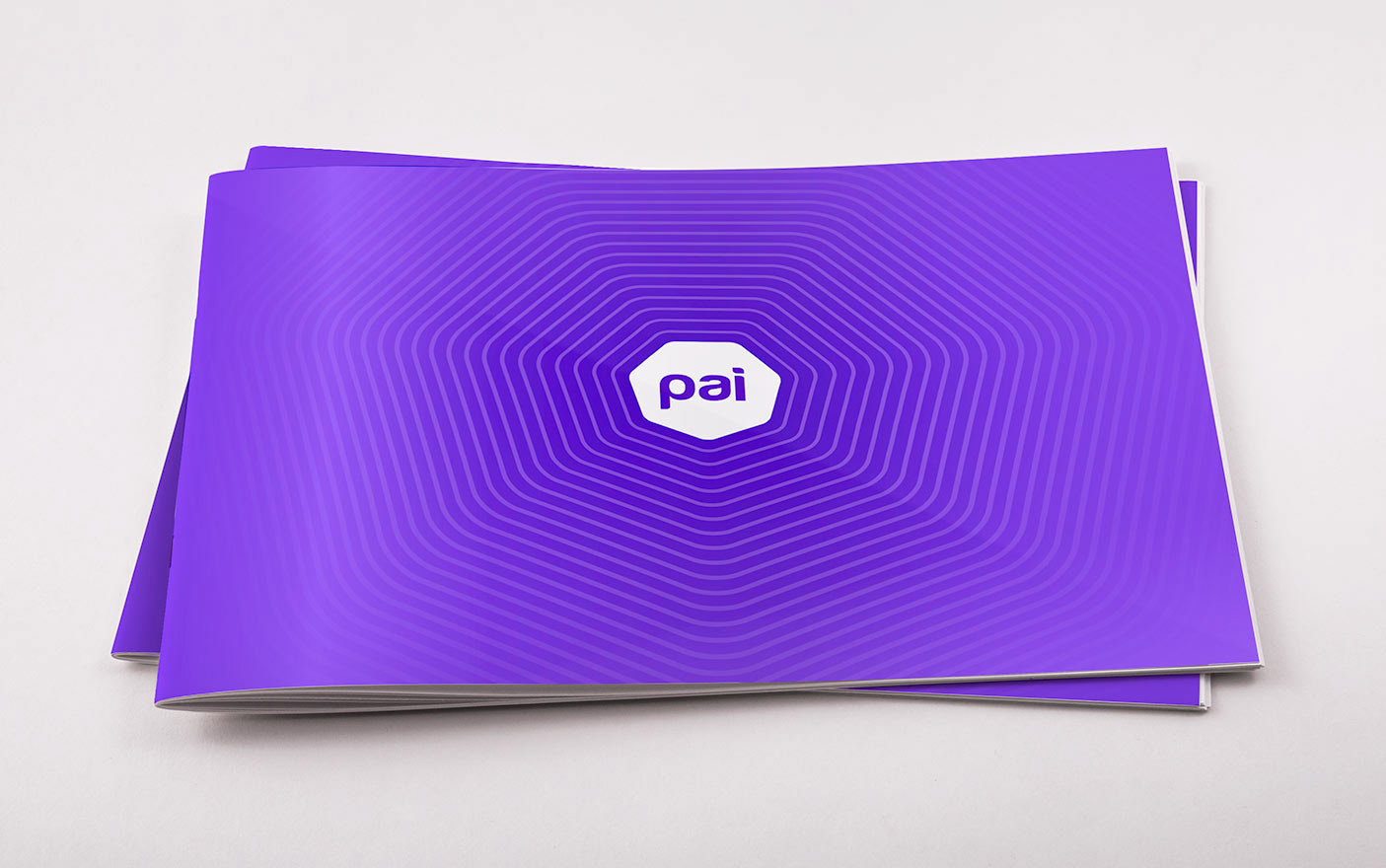 As the brand's icon and focal point, the 'PAI heptagon' dominates the brochure cover. The radiating lines are also used as a feature accent throughout the design.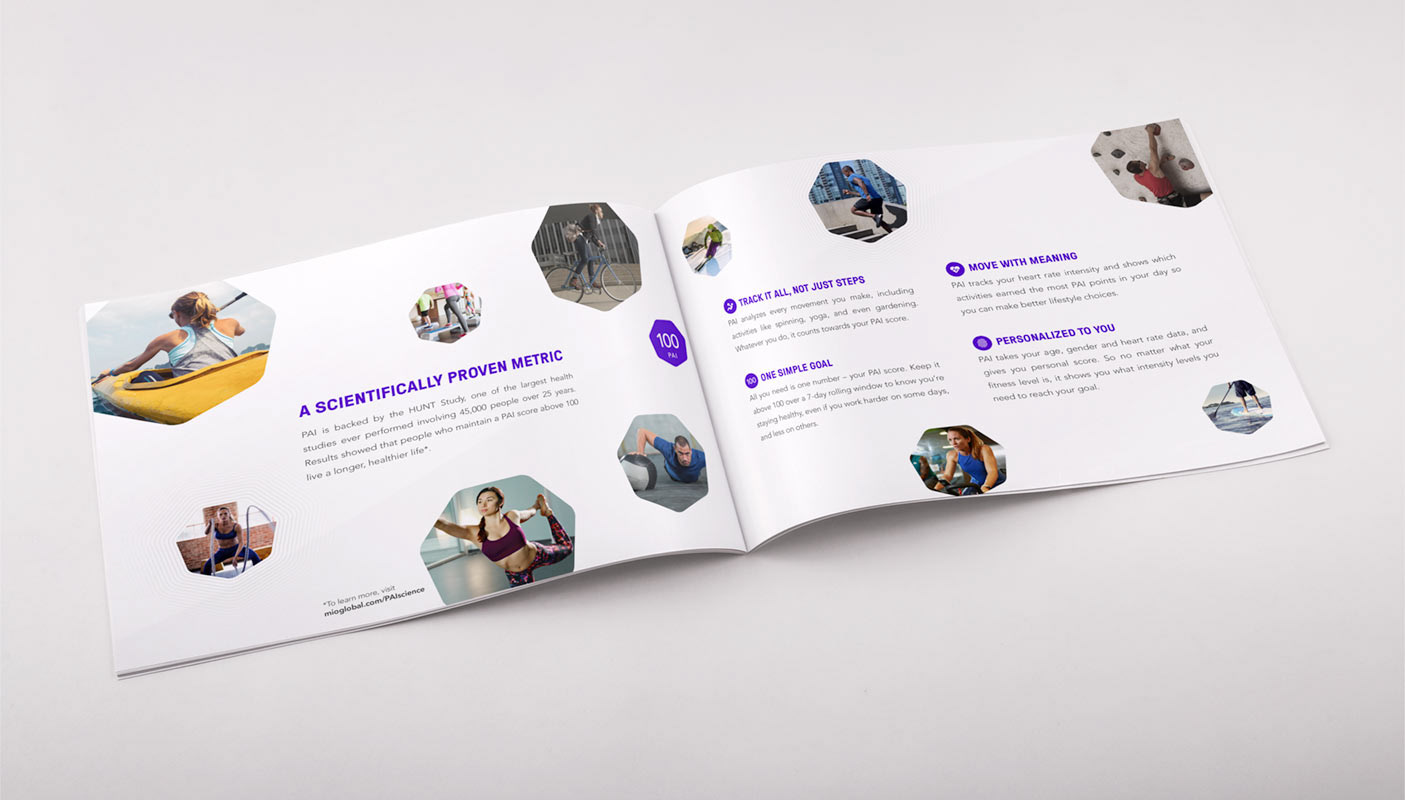 Why the heptagon? This 7-sided shape represents the moving 7-day window of activity that makes up a person's PAI score. As a unique visual stand-in for the underlying algorithm, we aim to 'own' this shape as a key brand recognition tool.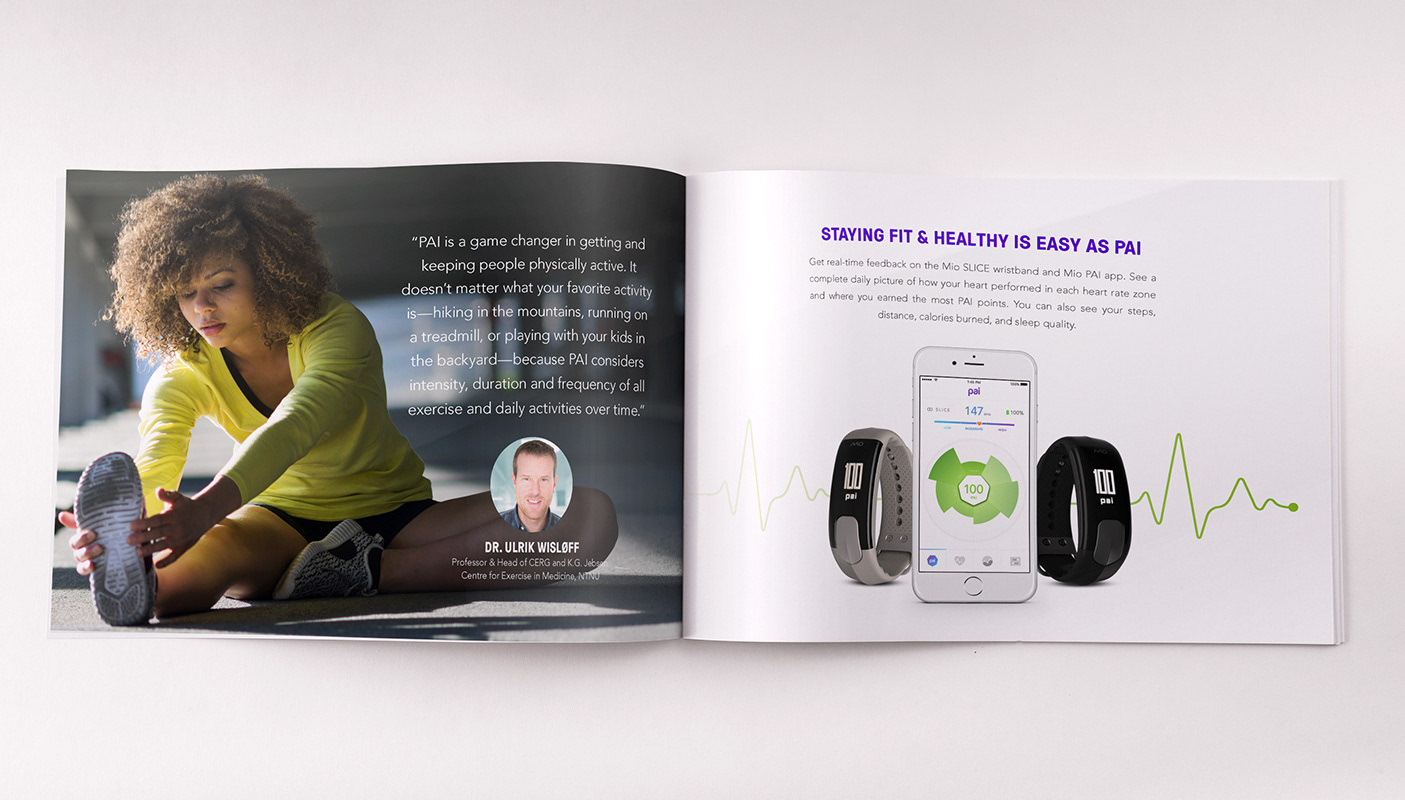 What:
Roll-up banners, Booth backdrop
Stakeholders:
VP Marketing, Director of Marketing, Events Manager
Responsibilities:
Concept development, mockups, final print artwork
Skills:
Print design, image editing
Tools:
 InDesign, Photoshop, Illustrator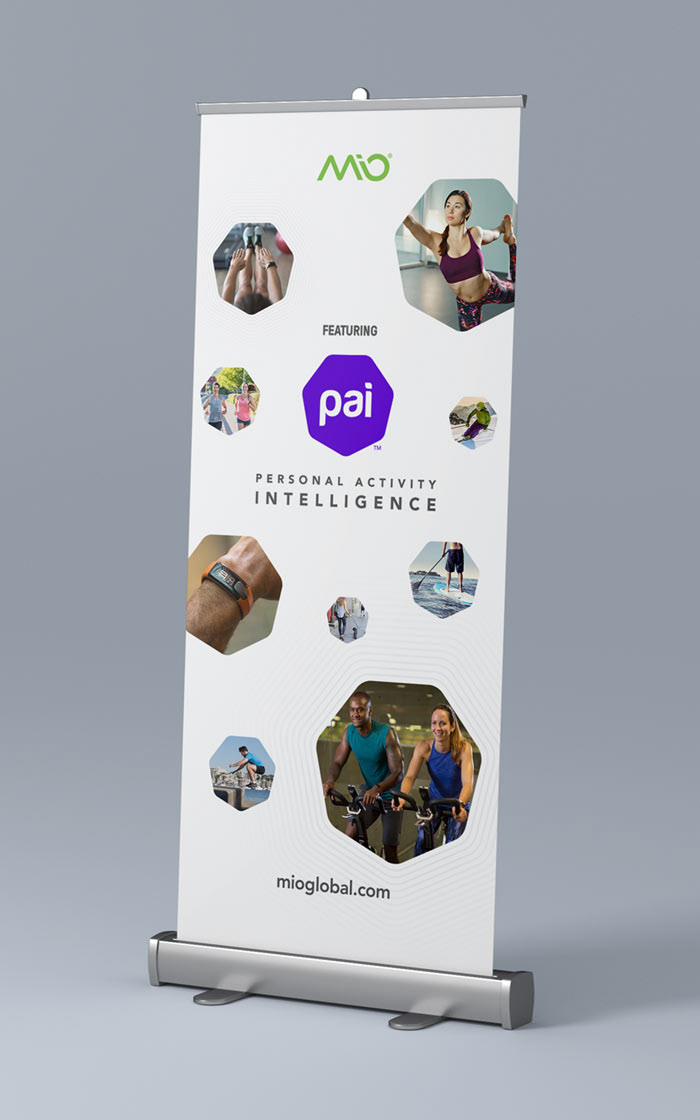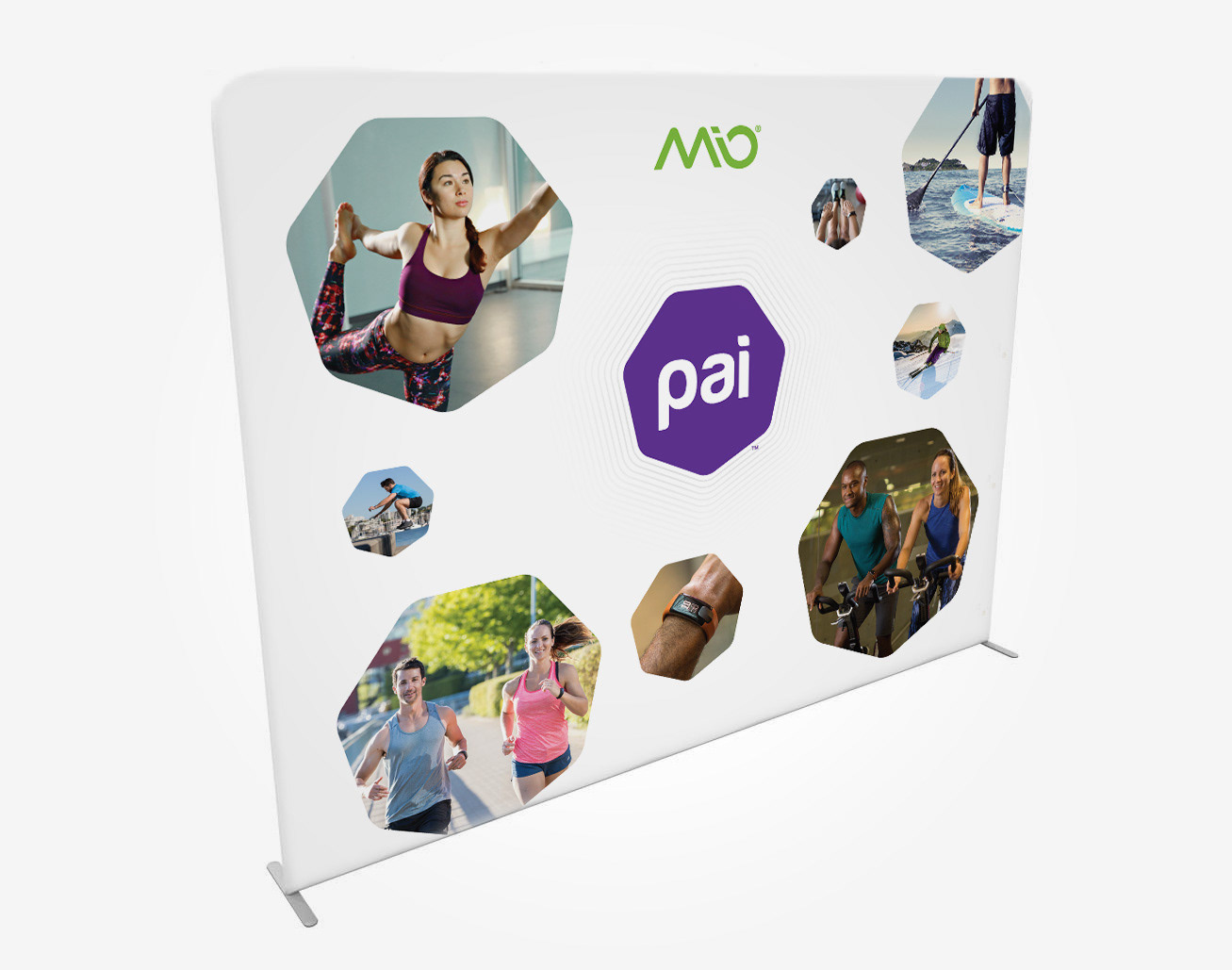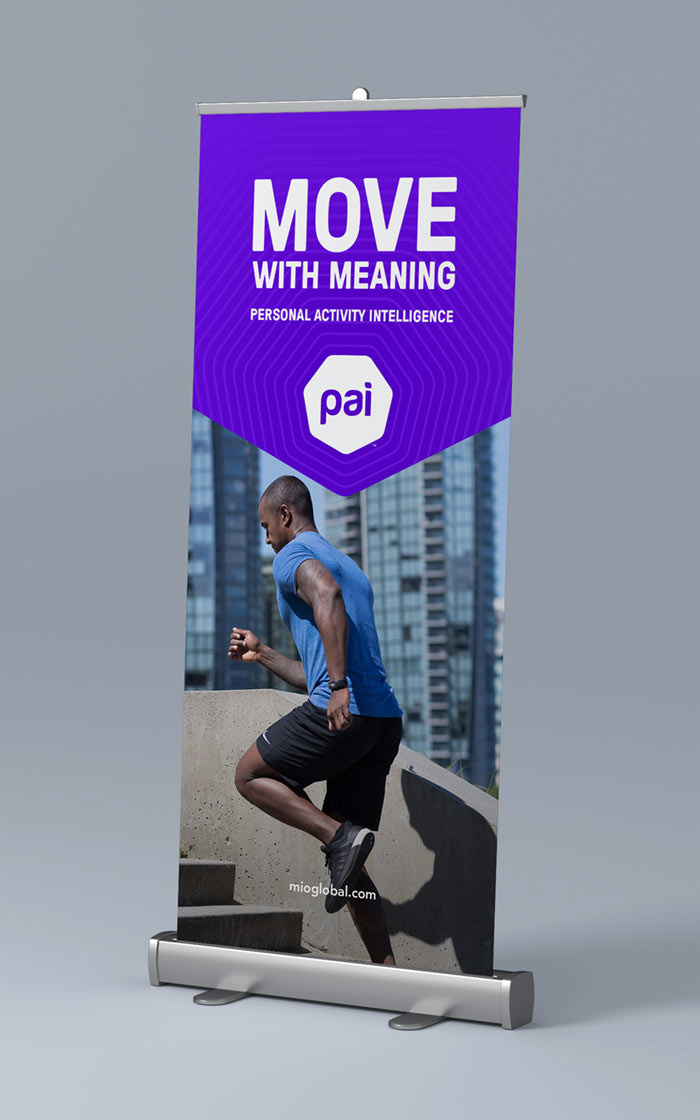 What:
Web application for estimating 'fitness age'
Stakeholders:
VP Marketing, Technical Product Manager
Responsibilities:
Visual design
Skills:
UI design, UX design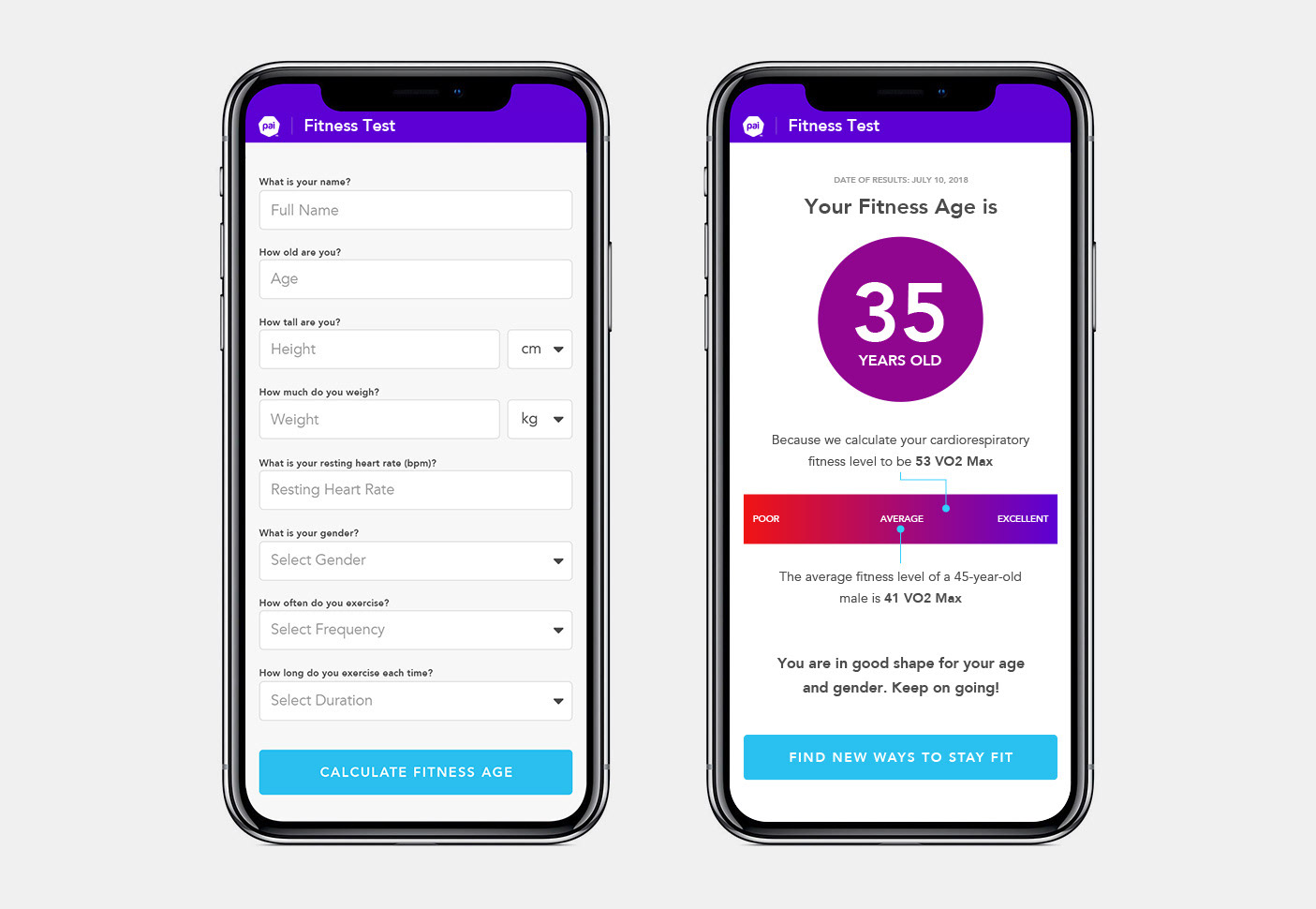 What:
Mio SLICE packaging
Stakeholders:
VP Product Design, VP Marketing
Responsibilities:
 Graphic design, final print artwork, print proofing
Skills:
Print design, icon design/illustration
Tools:
 Illustrator, Photoshop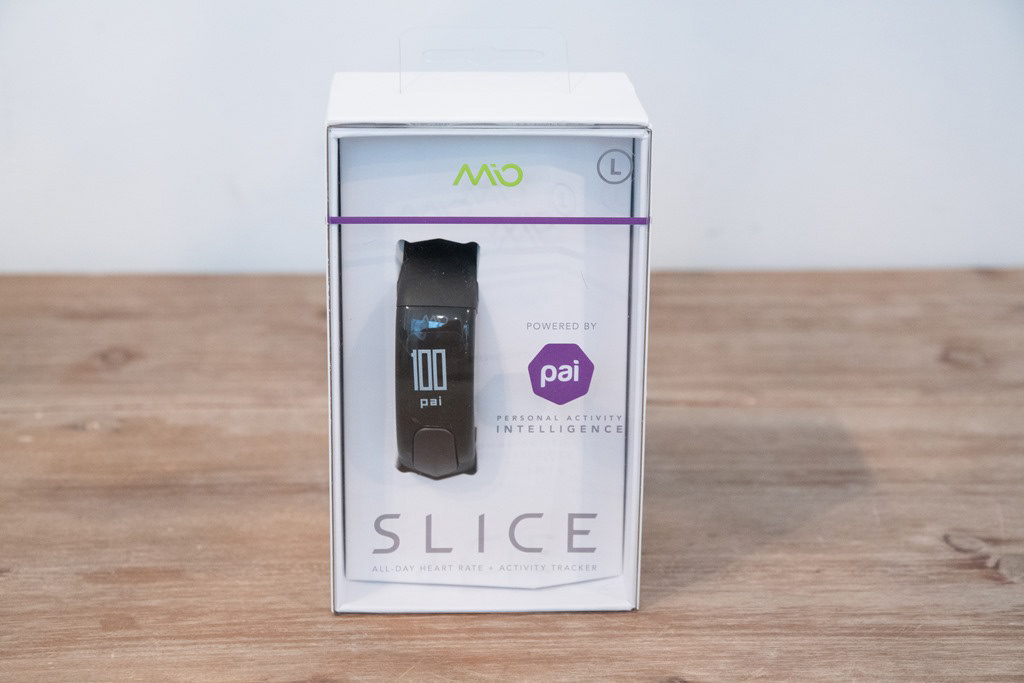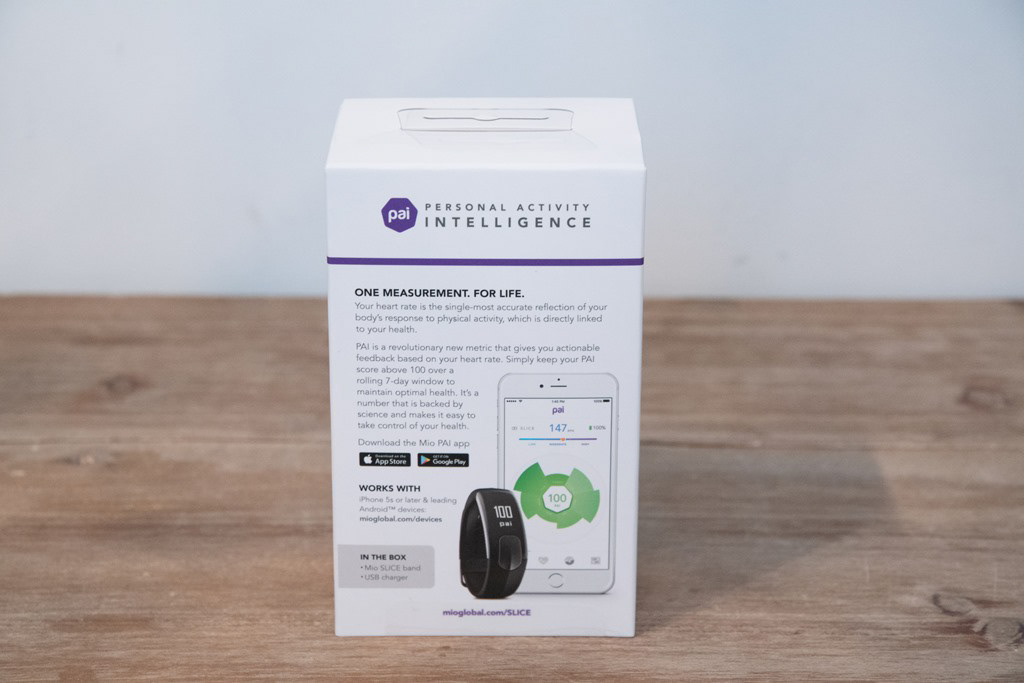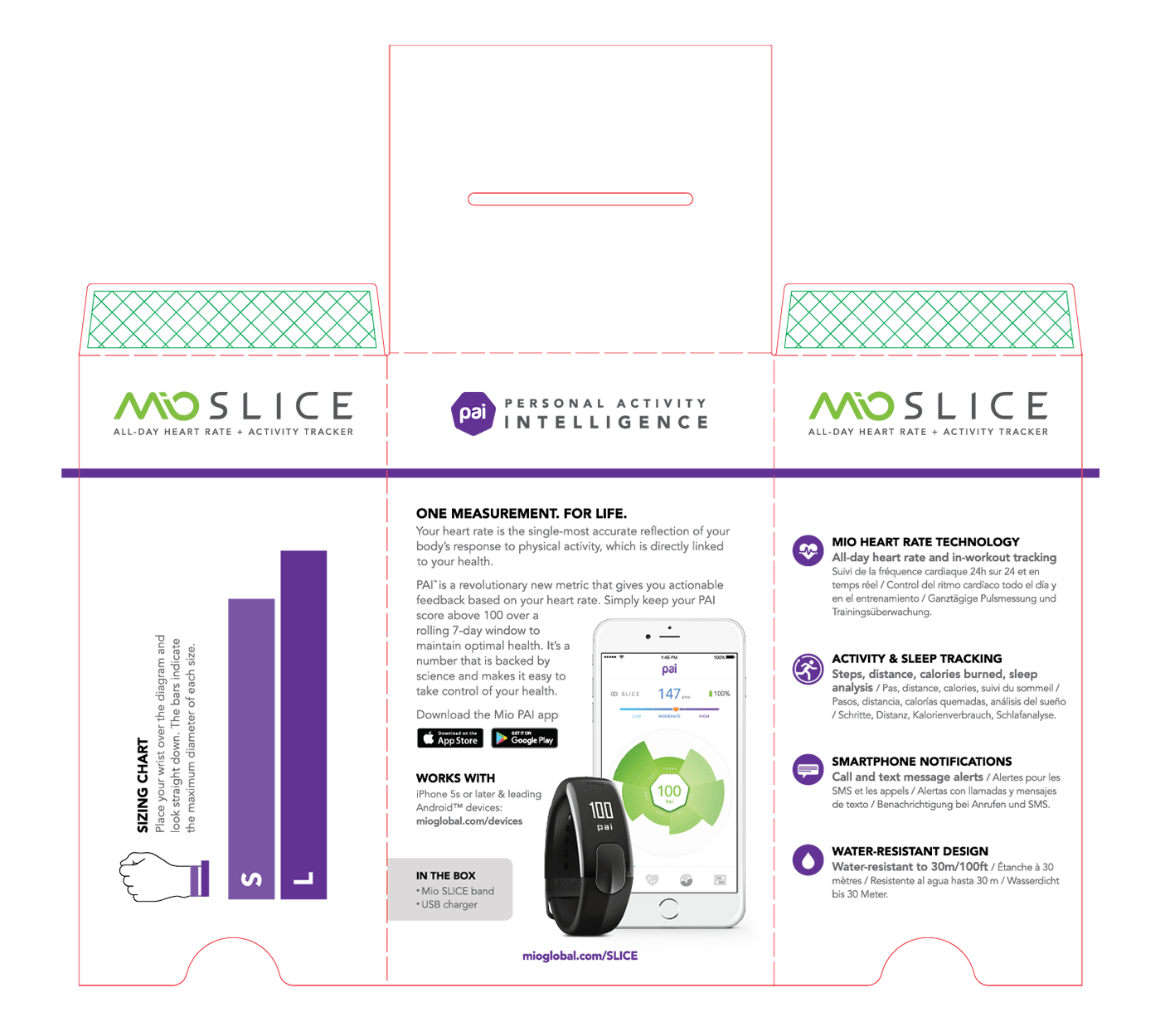 Stakeholders:
VP Marketing
Responsibilities:
Print design, copy editing
Skills:
Print design, image editing, icon design/illustration
Tools:
 InDesign, Photoshop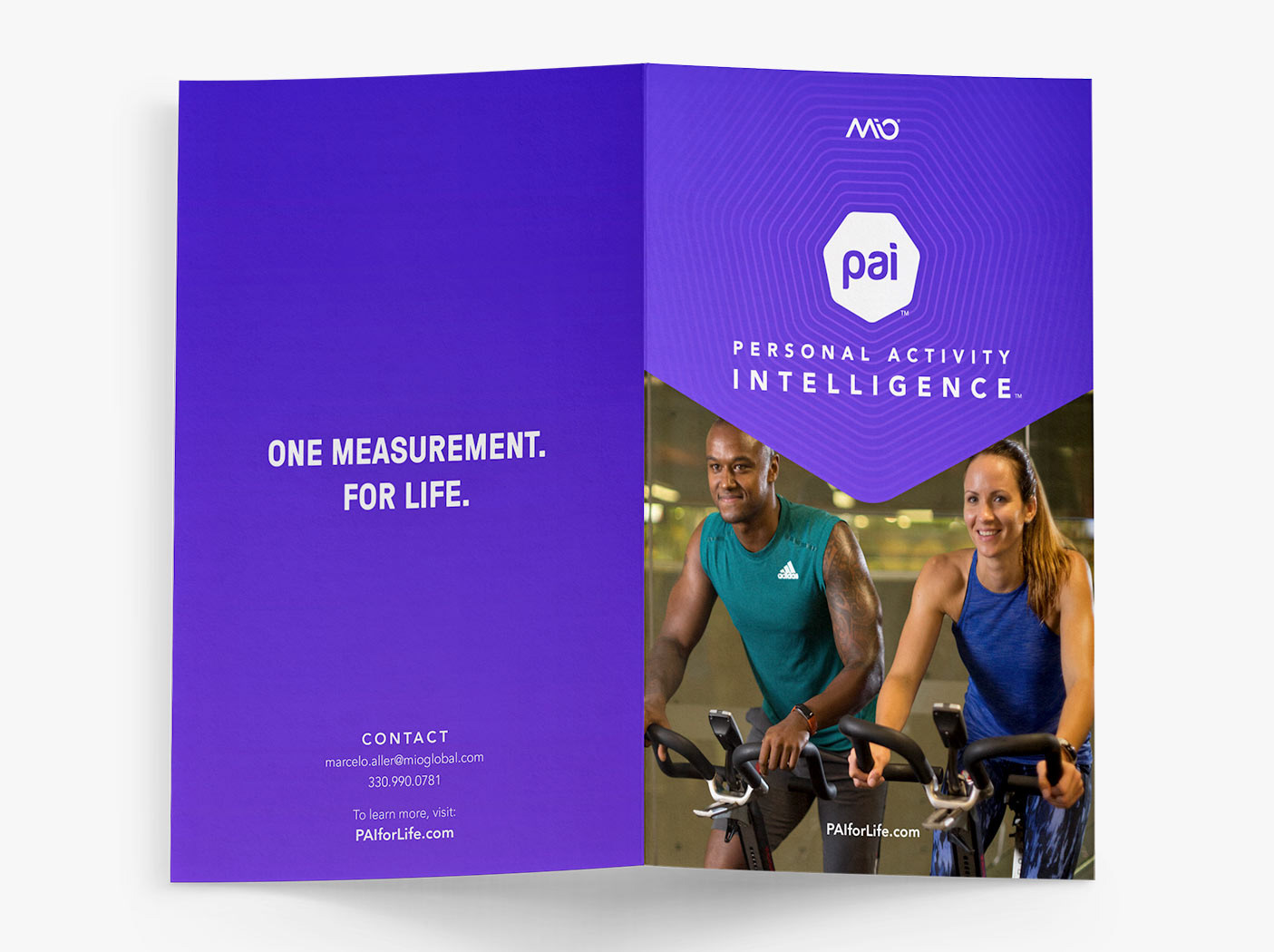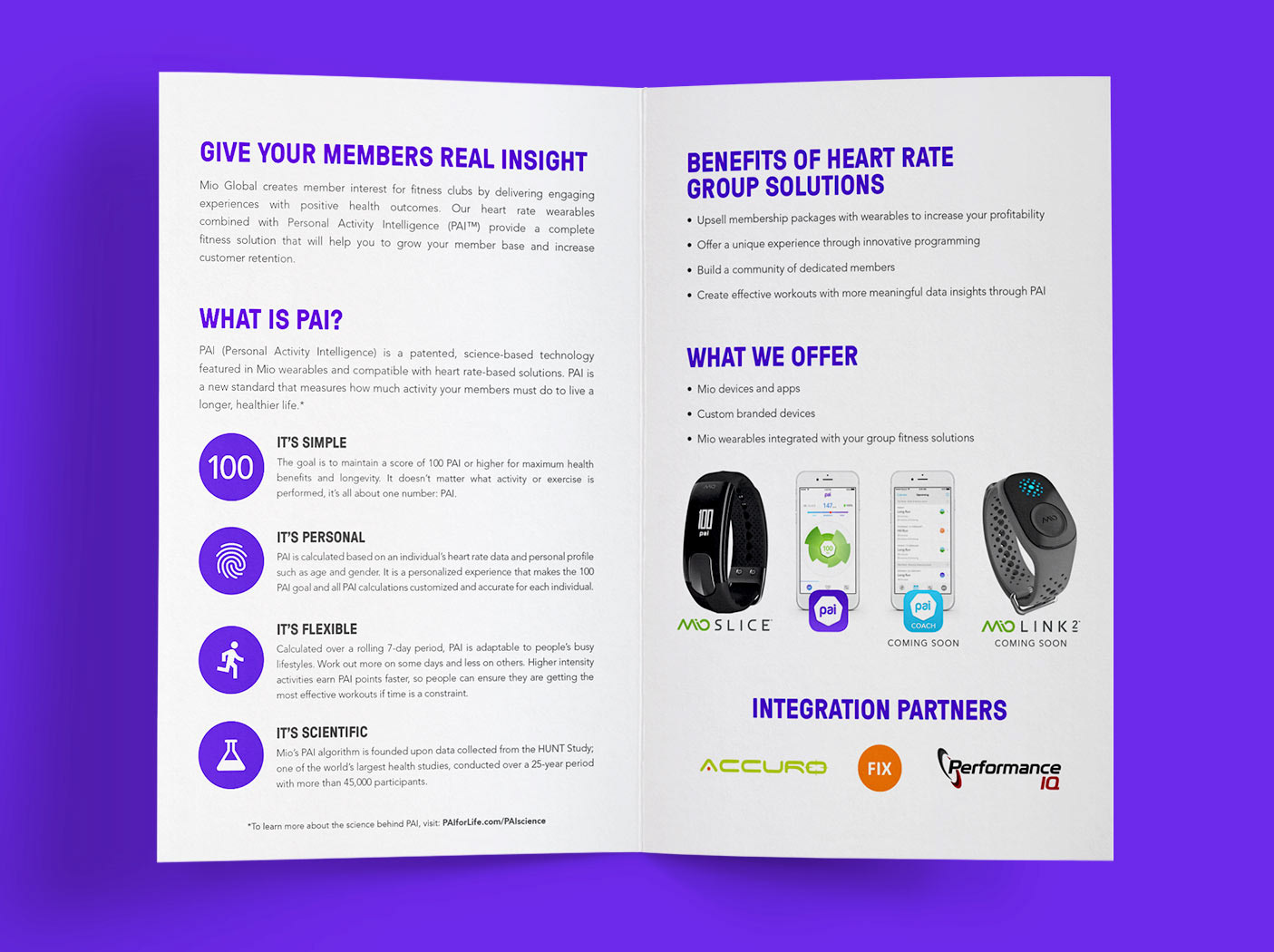 What:
Sell sheets/info sheets
Stakeholders:
VP Global Sales, VP Marketing
Responsibilities:
Print design, copy editing
Skills:
Print design, image editing, icon design/illustration
Tools:
 InDesign, Photoshop